Projects
FOR MORE EQUALITY OF OPPORTUNITY
Help for Ukraine
Our donations in kind, money and time provide prompt and non-bureaucratic help for people suffering from the war in Ukraine.
Application training day for Ukrainian women in Munich.
Generous donations were made to the campaign initiated by "Deutschland hilft" ("Germany helps"). Our employees also donated to our transnational Hays Ukraine Fund – money which we used to implement aid projects in Poland and Hungary, including a school project in Warsaw. We set up a school there in an empty office building which had been made available to us free of charge. 280 students, from first to 12th/13th grade, are taught by Ukrainian teachers here in accordance with the Ukrainian curriculum. In more than 200 hours, employees also collected and shipped donations in kind and provided assistance in reception centres. Apart from urgent assistance, our colleagues use their knowledge for skills-based volunteering activities to help refugees to start working in Germany.
JOBLINGE
The JOBLINGE initiative helps unemployed young people to get started with a job. As a JOBLINGE partner, we support with mentoring, training courses and financial donations.
The cooperation between Hays and JOBLINGE started in the spring of 2022. This non-profit initiative provides unemployed young people with job opportunities and helps them to integrate with the job market over the long term. During regular volunteering missions, Hays employees support the participating young people through mentoring, application coaching sessions, CV checks and interview training courses. The JOBLINGE organisation itself also receives business advice from Hays as part of this cooperation. Our 2021 Christmas donation financially supported the "Plan A" JOBLINGE project.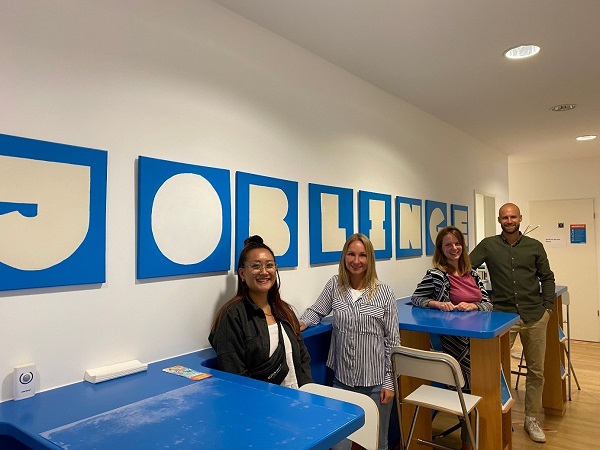 Hays employees volunteering with JOBLINGE supporting young people on their journey from unemployment to a job.
Das andere Schulzimmer (The other classroom)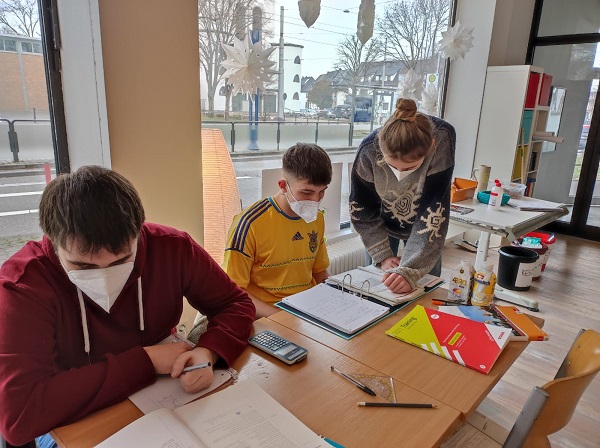 "Das andere Schulzimmer e.V." supports disadvantaged young people in school and at the start of their careers.
The aim of our cooperation with the association known as "Das andere Schulzimmer e.V." is to create opportunities for disadvantaged young people and to help them to start a career.
As a partner organisation, we support the "Das andere Schulzimmer e.V." association, which helps young people in difficult circumstances in the metropolitan Rhine-Neckar region in school and when starting their careers. Its new "My Job – My Future" project expands the association's portfolio with offerings such as finding internships, application training and support during vocational training. Our donation funded a permanent coordination position for the 2022/23 school year for the new project to create reliable structures.
Little things make great changes
Since 2017, we have supported two initiatives each year that help disadvantaged people on their educational path. Our employees vote on which initiatives they would like to support. They choose their two favourite initiatives from four projects. These can be the provision of filled school bags for needy first graders or psychosocial support for children and young people with cancer. The common thread in the pre-selection of initiatives for our "Little makes a big difference" project is always that we want to support young people with start-up difficulties, break down barriers and at the same time be close to our core area, namely training the skilled workers of tomorrow.
Pro Bono Camp
For the "Pro Bono Camp" by "Haus des Stiftens" (House of Donations), Hays employees donate their expertise and support the charitable work of non-profit organisations.
341 volunteers from 30 companies donated their know-how at the 2021 pro bono camp – including almost 50 volunteers from Hays. How do I recruit via social media? Is my website reaching my target audience? Questions such as these were the main focus of coaching sessions and seminars – an opportunity for associates from non-profit organisations to expand their knowledge. "Haus des Stiftens gGmbH" is planning to have its next pro bono camp in 2022 – and our volunteers will be taking part again.
At the Pro Bono Camp, non-profit organisations benefit from the specialist expertise in commercial companies.
Flood disaster
In the summer of 2021, we supported the victims of the flood disaster in the Ahrtal with a fund raiser.
Shocked by the catastrophic situation in the Ahrtal, one of our employees started a fund raiser in our organisation in the summer of 2021. Hays doubled the final sum which was raised. Our employees voted to donate the money to the families of schoolchildren who were affected particularly seriously by the flooding.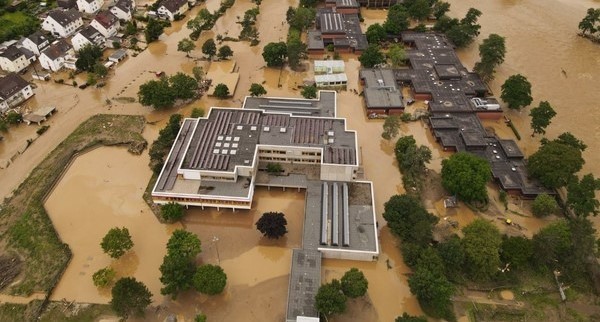 Hays employees showed their solidarity with victims of the flood disaster in the Ahrtal with a fund raiser.
Art and music therapy for children suffering from cancer
Music and art also work without words, which is why this kind of therapy can be used even for very young children.

Our donation provided art and music therapy for young cancer patients to increase their chances of recovery.
We have been funding two part-time positions for art and music therapy at the Mannheim university hospital since 2017. This is in support of "Aktion für krebskranke Kinder" ("Campaign for Children with Cancer"), organised by the German leukaemia research aid. The therapy helps sick children to deal with traumatic experiences and mobilise their self-healing powers to increase their chances of a "healthy" reintegration.
Other projects in our CR history
Deutschlandstipendium (Germany grant)
▶ More info

Our funding of the Germany grant rewards above-average academic achievements and offers students networking opportunities.

Since 2011 we have been funding outstanding students with the aid of the German government's Germany grant. Apart from providing financial support, we give students the chance to network and make contacts in the working world at an early stage. As part of the Germany grant, we currently support students at the University of Mannheim and the business academy for management in Mannheim.

The Germany grant provides students with special funding.
Alleviating poverty – empowering children
▶ More info

Our donation to the Caritas project helped to improve educational opportunities for financially disadvantaged children and alleviate the consequences of child poverty.

We wanted to help to improve the educational opportunities for children and young people living in particular hardship and allow them to participate in society. This is why we supported the Caritas Mannheim development fund in 2021 with ad-hoc grants-in-aid for education and basic needs, funding urgently needed school supplies, private tuition, school trips or supervised homework, among other things.

Education unlocks opportunities and empowers children.
Playing & learning – supporting children from disadvantaged families
▶ More info

Our donation for the "Spielen & Lernen" (playing and learning) project supports the social and emotional development of children from disadvantaged families.

The "Spielen & Lernen" project initiated by the Deutschen Kinderschutzbund, a German non-profit association and lobby for children, gives disadvantaged children the opportunity to make a good start in life. For one school year, our 2019 and 2020 donations funded a part-time position for a social education professional to support disadvantaged children at two schools in Mannheim. The students acquire social skills in a playful manner, receive language training and learn more about a healthy diet and physical activity.




Learning social skills through play – that's what the Kinderschutzbund's playing and learning project is all about. Hays CEO Markus Auer visited the initiative.
Two places at university for refugees
▶ More info

Funding two places at university for refugees is our contribution to integration and providing a skilled workforce.

From 2016 to 2019 we funded two full-time IT management places for Syrian refugees at the business academy for management (HdWM) in Mannheim. During their courses, the two completed an 18-week internship in our IT department and wrote their Bachelor and/or Master's thesis. Thanks to their commitment and determination, the pair succeeded in settling in in Germany.

Adel Haider and George Achji successfully completed their studies in Mannheim with a grant from Hays.
Frauen in Beruf und Schule (FiBS, Women in Work and School) – corporate volunteering pilot project in Munich
▶ More info

As volunteers, Hays associates coached refugees who wanted to build professional projects in Germany in the FiBS project.

In the "Women in Work and School" pilot project, our associates volunteered in 2021 based on their professional expertise. Their objective: to make it easier for refugees to make a professional restart in Germany. Our associates provided individual and group coaching sessions in which job interviews or workplace situations were simulated, for example. Their point of contact was InitiativGruppe München(Munich Initiative Group), a German non-profit support association for young people.

Benjamin Seibel from Hays and his mentee Iuliia Spitzl
Mannheimer KinderVesperkirche
▶ Mehr Infos

The "KinderVesperkirche" (which translates roughly as "help by the church for children who may not get regular meals from home") is an initiative against child poverty. Donations such as ours were used to fund a lunch service, for example.

The Protestant church in Mannheim uses the "KinderVesperkirche" KinderVesperkirche to highlight the problem of child poverty and to organise social projects. In the weeks when the initiative is running, boys and girls in need can get a cooked meal, take part in playing and learning activities and experience a sense of community. Financial support such as our 2020 donation has already made various projects possible such as a parent-mentor programme and a year-round lunch service.

Eating together, having fun together – the KinderVesperkirche promotes participation for all.
120 school bags
▶ More info

With our donation, 120 fully equipped school bags were handed to first graders in need – a pragmatic contribution for more educational equality.

In order to provide more educational equality right from the first day at school, the Deutsche Kinderhilfswerk, a German children's rights organisation, initiated an annual school bag initiative where fully equipped school bags are given to first-graders in need. With our donation, 120 fully equipped school bags were handed to first-graders in Mannheim at the start of the 2018/19 school year.

What do you think is inside? First-graders and Hays CEO Markus Auer examine the new school bags.