Sabbatical models:

How to apply for a sabbatical year with your employer
Escape from your daily routine and take time for personal development. Or just explore the world. The reasons for a sabbatical or sabbatical year are diverse. More and more companies are now getting to grips with the desire for a career break. They already offer applicants the opportunity to take a career break in job advertisements and in doing so portray themselves as an attractive corporate brand. There are various models that you can take advantage of as an employee, teacher or public official.
The fact is that the demand for a sabbatical year is currently relatively high – partly due to the pandemic (source: Sabbatjahr.org). Sabbaticals benefit not only employees but also employers.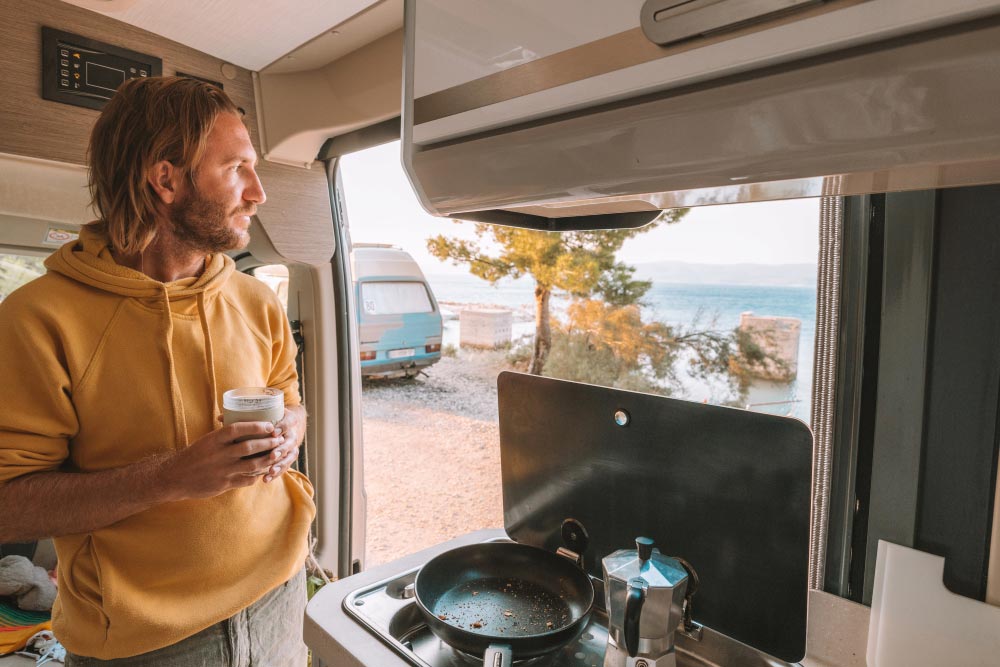 A sabbatical year can be beneficial to recharge your batteries and advance the company with new vigour and fresh ideas. However, at the same time, there are challenges as sabbaticals can be difficult to negotiate and finance.
Meaning of sabbatical: What is a sabbatical year?
A sabbatical is usually a leave of absence from work, which is often used for travel, research (e.g. voyage of learning) or personal development.
But where does the term come from and what does it mean? The word "sabbatical" has its origins in the Hebrew word "Shabbat" (Sabbath). The model was developed by US universities for professors who were relieved of their duties during their teaching hiatus and were able to focus entirely on their research.
A sabbatical year or sabbatical in our current working world is a longer break from working life, usually amounting to several months (known as sabbatical leave). The employee receives a specific salary each month during this defined time period, which they have earned through hours worked before or after the break. The employee therefore banks working hours and a monetary amount to a long-term account over a certain period of time in order to finance the sabbatical. Companies and organisations currently implement the following five sabbatical models in Germany.
These sabbatical models and financing options are available
Sabbaticals have achieved recognition in many companies and organisations in Germany – and that means there are also various financing options available.
1

Using a sabbatical as special holiday

Be liberated from work for a whole year? No, it does not have to be twelve calendar months. For some employees, a few days of special leave in addition to the contractually defined annual leave suffice for a sabbatical. For example, you can add up to four weeks of special leave to your 30-day annual holiday entitlement. This ultimately amounts to two months – and these days can be taken easily and compensated without any holiday cover in many companies.

Longer sabbaticals, however, can get tricky because, in this case, the employment contract is considered to be interrupted and you as an employee are no longer covered by the social security scheme.

If you stay within a period of two months, you will continue to be covered by the social security scheme. During the period of the special leave, your monthly salary will usually not be paid. However, social security contributions will continue to be paid.

2

A sabbatical as unpaid leave

The second sabbatical model is probably the simplest but financially the most unfavourable variant for you: unpaid leave. Your employment contract is effectively suspended in this case and neither obligations nor rights can be asserted.

You as an employee are no longer covered by the social security scheme during this period so you have to take care of health and nursing care insurance as well as pension and unemployment insurance yourself (voluntarily).

Your employer has the advantage that the sabbatical does not incur any direct costs and both parties can resume the employment contract at any time after you return, without the need for a new contract.

3

A sabbatical based on a voluntary cut in salary

If you do not want to or cannot finance your sabbatical year, you can forego part of your contractual salary in this sabbatical model. The benefit here is that your employment contract remains in force and you continue to be covered by the social security scheme.

With this model, the employee normally receives only 75 percent of their actual salary as a full-time employee before their career break. For example, if you decide to take a two-year sabbatical, you can still get 50 percent of your income.

The drawback, however, is that even before your sabbatical, you would have to restrict yourself financially and adjust your standard of living accordingly. Nevertheless, the effort for most people is manageable with this variant.

4

A sabbatical through banking working time credit

A very popular and rather classic model for a career break is the banking of overtime, which is recorded in a specially created working time account. Employees can use this allocation of hours during their sabbatical.

If you apply for and use this sabbatical model, you will continue to be employed, continue to receive your salary and you will also have comprehensive insurance and protection. But this model only works if your company records and documents your working time. If your employer relies on working time arrangements based on trust, you must set up a special arrangement with your superiors.

This should be considered carefully because the extra work you have to do could not only lead to considerable stress in situations where there is additional burden – it could also affect your productivity and the efficiency of the company.

5

A sabbatical by setting up a lifelong working time account

The fifth and final sabbatical model is an extension of the working time credit. This includes not only additional hours and overtime but also unused holidays as well as any bonuses, holiday and Christmas bonuses and salary payments. These amounts can be used as an employee to retire earlier than planned – or to take a sabbatical year.

Understandably, your company will have to spend more time and money on this model. However, you as an employee have the advantage of continuing to be covered by the social security scheme. You can be very flexible and take a sabbatical in the foreseeable future.
Choose the right sabbatical model for you and convince your manager
Don't be afraid to take a sabbatical just because you fear not being covered by the social security scheme. This is not the case in most instances.
We recommend that you consider the various sabbatical models and your legal rights at an early stage and determine the appropriate variant for you in order to plan your career break.
If you are applying for a sabbatical year, you should be well informed when you enter into negotiations with your manager. At first, it may not seem worthwhile for a company to lose competent employees or even managers for a relatively long period of time. But the advantages outweigh the disadvantages, even for employers. Make it clear to your company that you will be invigorated and motivated when you return from your sabbatical.
Most likely, the following arguments will also apply to you:
The sabbatical year allows you personally to train in specific fields that will benefit your team.
The company benefits from the experiences that you gain abroad and the linguistic and intercultural skills that you acquire.
You pre-empt potential overloading in the workplace and protect yourself in the long-term against common diseases, such as burn-out.
Your reintegration into daily work does not require additional effort as you will not lose your know-how.
Your company becomes attractive by offering potential sabbaticals and stands out from the majority of rival companies in times where there is a shortage of skilled workers.
Have you got a touch of wanderlust and are looking to take a career break? Want to meet an employer who is open to sabbaticals? Send us your application documents and we will find the right company with you.
You might also be interested in:
Free application training
Are you keen to take a look around the market but aren't sure whether your CV is up to scratch or your social media profiles are coherent?
Long-term experience
The more know-how and professional experience you have, the more complex your CV will be. We show you how to structure it.
In-person
advice
Would you like to meet us in person? Come and see us – we have branches throughout Germany, from Münster through Hanover to Munich.